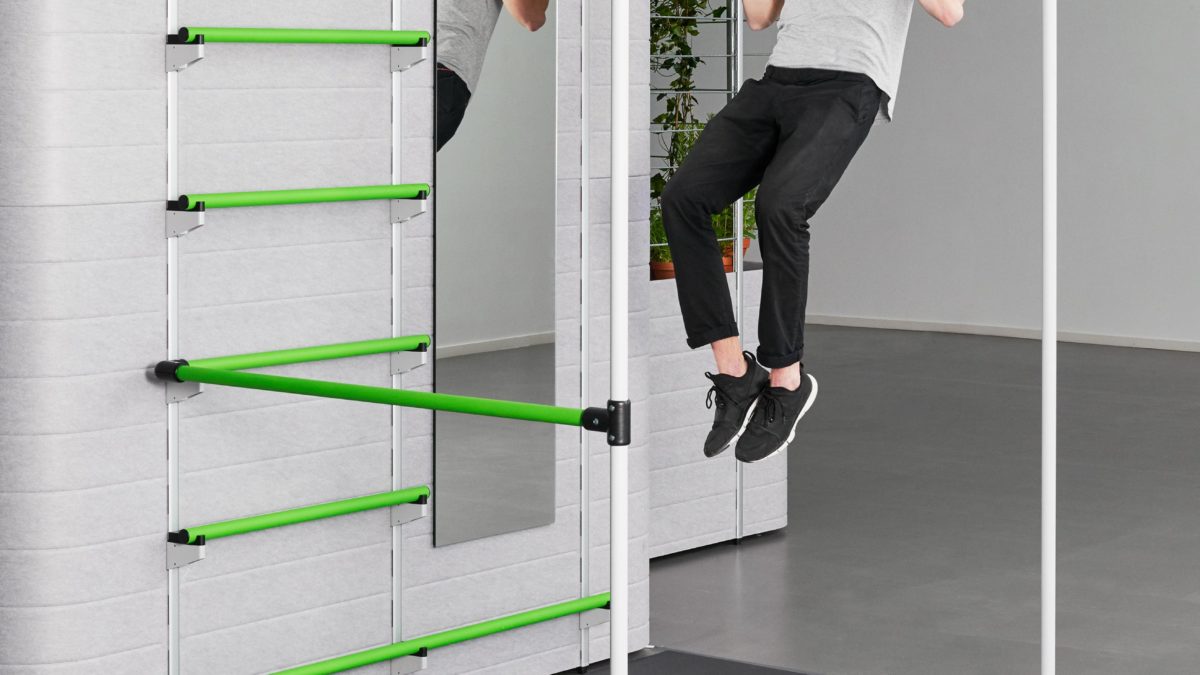 WORKBAYS VILLAGE_Design Parade Toulon 2017
Workbays Village is the result of a collaboration between Vitra and ECAL/Ecole Cantonale d'Art de Lausanne. Master Product Design students hack the modular office system Workbays, designed by Ronan and Erwan Bouroullec. Consisting of wall elements made out of pressed polyester felt and held together by slim aluminium profiles, the office system was launched by Vitra in 2012.
Led by Camille Blin and Erwan Bouroullec himself, the students reinterpretate the system and propose adaptions to address contemporary needs. "The ECAL students suggested we devised new typologies for these working environments, adding novel features and supplying them with new accessories", says Camille Blin.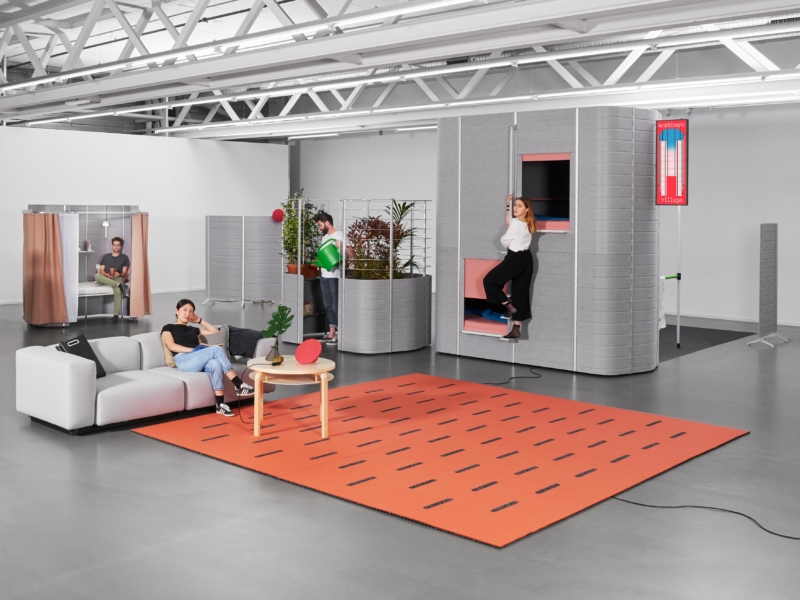 The complete "village" is composed by nine bays and seven objects devised by the students. On display at Port des Créateurs during Design Parade Toulon, the exhibition is open to the public until September 24th 2017.
Circuit Carpet by Sara Regal: "Made of two separate layers of grooved rubber and felt, this carpet allows the electric cabling to run discreetly throughout the workspace."
Bluetooth Speaker by Hugo Chaffiotte: "This Bluetooth speaker can be clipped on to the Workbays walls directly or set on the work surfaces as required."
Bar Bay by Sara de Campos: "Relying on the Workbays assembly principle, this new bar typology enables office staff to cook and have lunch within a single compact space."
In & Out Bin by Yeyeon Park: "As it is directly fitted into the Workbays felt walls, this bin system saves on floor space and allows the user to access the bin from either inside or outside the unit."
Capsule Bay by Antoine Chauvin: "Modelled on the famous capsule hotels that can be found in Tokyo this raised Workbay offers two single bedrooms for napping or even sleeping at your place of work."
Divider Bay by Hiroyuki Morita: "These partitions rely on the various Workbays component elements to create a simple, lightweight typology."
Standing Help by Christian Holweck: "This high stool is ergonomically designed while remaining simple and elegant."
Farm Bay, Paula Cermeno: "Like a small plant oasis bursting forth in an often impersonal working environment, this new Workbays typology includes a trellis for office flora to bloom."
Hacking Bay by Aleksandra Szewc: "A few straightforward additions to the Workbays felt wall provide bicycle-parking, coat-hanging and toolsorting facilities."
XS Bay & Pins by Sumegha Mantri: "This desk wall makes use of the various Workbays component elements to provide a customisable and coherent way to break down large worktables. Different accessories such as drawing pins and vases are added to this wall."
Plug & Tray by Maxime Augay: "This multisocket cleverly conceals the unsightly wire tangles under a built-in tray."
Stadium Bay by Adrien Cugulliere: "Four lamps modelled on stadium floodlights have been integrated into the Workbays as an extension to the aluminium profiles. They produce uniform lighting over the whole working area."
Leather Bag by Nicolas de Vismes: "Once it's opened out, this leather bag becomes a desk pad and customizes any user's workspace."
Workout Bay by Paul Louda: "Fitted on to the Workbays structure, various pieces of apparatus allow office staff to work out at their place of work."
Magnetic Lamp by Yen-Hao Chu: "Running along the grooves that punctuate the Workbays felt walls, this small lamp slides sideways to provide extra lighting where it is needed."
Nap Bay by Yasunori Morinaga: "With the addition of a curtain system and a mattress, this Workbay provides some privacy within a shared space in the form of a daybed."
All rights reserved to ECAL/Ecole Cantonale d'Art de Lausanne.