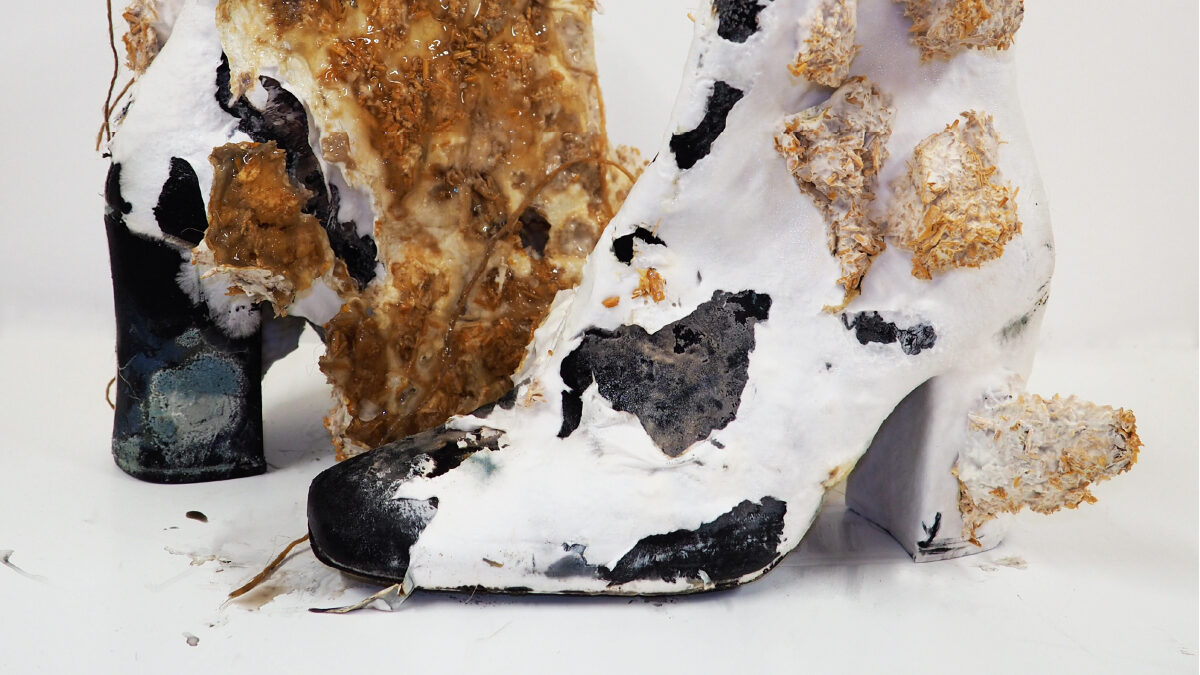 HELENA ELSTON, towards a biodegradable fashion
As many already know, the fashion industry is one of the most polluting in the world, specifically producing about 10% of all global CO2 emissions, as this United Nations report explains. In order to make this industry circular, however, there are many factors to take into account: from the use of water for garment production (1kg of cotton for a pair of jeans is created with about 10000 liters of water, which is the amount a person drinks in 10 years), to the – in the past limited to one collection per season – fast fashion culture that can now reach the production of 50 different collections in a year.
The European Union is trying to run for cover and suggests that by 2030 there should be mandatory minimum quantities for the use of recycled fibers in textiles. The main problem with recycling, however, is its complexity: in addition to involving manual operations such as separating buttons and zippers from garments, there is not enough machinery to recycle and reuse fibers from discarded clothes. In addition to this, the industry needs to improve its technologies to ensure the production of high-quality recycled fibers – otherwise it is just downcycling and not recycling, because the resulting material is of lower quality and functionality than the original material.
For the past few years, the design world has been striving to find different ways to create sustainable and environmentally friendly fashion: from new fabrics derived from algae, such as Algiknit, to the use of new fibers, such as Musa Intimates, which sells products created with yarns extracted from banana plant. With the FI (Fungal Integrated) project, instead, designer Helena Elston set out to create a new type of recycled clothing made from mycelium and textile waste, with the aim of exploring the beauty in waste materials.
c
c
The FI collection is made up of various garments created using a combination of local waste products, including discarded textiles, coffee sacks and mycelium. These pieces range from a seamless dress and a navy trouser suit to chunky heeled boots and a rugged jacket made from earthy-hued patches of hessian stitched together.
Elston appliques these surplus fabrics using a mycelium growth process that lasts for roughly six weeks, which produces wearable pieces that are designed to biodegrade once the wearer has finished with them. The growing process takes place in containers in which the designer introduces at a specific humidity, darkness and temperature nutrients and mycelium among the recycled garments – the process is in its patent stage so details cannot be revealed. Once the garments are removed from this environment in Elston's studio in North Acton, they dry out and stop growing, after which they can be worn. The designer's goal is to reduce waste in the fashion industry by creating garments that can "fully decompose" at the end of their life, instead of ending up in landfills.
Although the garments created by Elston are not yet in production and the project is still in a research phase, the designer explained that they could be composted in household waste or buried in a backyard garden due to the "extensive and magical toolkit" within soil that aids in the decomposition of material through mycelium. The designer estimates that natural textiles could fully decompose in a period of 2 to 6 months.
The possibilities are plenty, because mycelium is able to decompose many human wastes and byproducts. Although Elston's pieces are currently made from discarded fabrics, the designer is also experimenting with a combination of synthetic and natural materials to make new garments and to use mycelium as an alternative sewing tool to combine pieces of fabric together.
Helena is not the only designer engaged in redefining the life cycle of garments, another example comes from the research of Laura Muth, engaged in creating shoes with an expiration date, or Nicholas Rapagnani with the Growing Sneakers concept, i.e. the idea of producing sneakers by cultivating mycelium following the shapes of the components of the final product.
For more information about the Fungal Integrated project visit Helena Elston's website and follow her on Instagram!
Photo courtesy of Helena Elston
c